It's easy to love Broad City for a myriad of reasons, but my #1 reason for adoring this show is that Abbi and Ilana ain't sorry about shit. There's none of that "she wore a risque outfit and got roofied at a wild party" crap that is represented in every TV show that took place in high school or college or Law and Order SVU that ever existed. There are no "pot's a gateway drug" morality tales from an After School Special. They are absolutely and thoroughly themselves -regardless of what anyone thinks – that's what makes them feminist heroes;Especially when being themselves makes other people feel uncomfortable. The snobs at fancy restaurant and uptight bosses of the world are uncomfortable because they wish they were that fucking cool!
Here are some of the times they've MAGNIFICENTLY not given a fuck about what anyone else thinks.
1. THEY LOVE SEXY TIMES.
These ladies have many stamps from Bonetown in their passports. They love the D and they don't give a shit who knows it. There's no such thing as slut shaming in Broad City and for that we are convivial. Abbi pees out a condom on her birthday. They go home with creepy DJs. Ilana tells her frequent fuck buddy, Lincoln, that she respects him for respecting her and that she's gonna respect his dick later. They're women with healthy sexual appetites who talk about it. Hilariously. A lot. And they never go through with anything that skeeves them out. Because gross.
2. THEY ALSO KNOW THAT SOMETIMES YOU BONE DOWN ON SOME NASTY DUDES.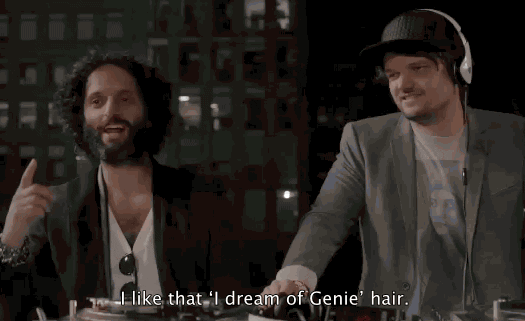 They also recognize that sometimes you bang someone who will later embarrass you. As was the case when Ilana had sex with the dude who she later found out is in an improv group. Sometimes a guy is mad sexy in bed and then in real life does terrible Ace Ventura impressions. This is life as a woman sometimes. Celebrate it. Embrace it. Don't be ashamed of it.
3. IT'S OKAY TO WORK A JOB THAT SUCKS, IT DOESN'T MEAN YOU'RE GONNA BE A LOSER FOREVER.
Abbi and Ilana are women who aren't exactly "career-driven": Ilana works at a garbage job and phones it in. Sometimes literally. Mostly she just naps in the bathroom. Abbi is the high priestess of dealing with "pube situations" as a cleaner at a gym. They're not devoid of dreams, Ilana has a million schemes up her sleeve and Abbi wants to be a trainer and does art on the side. They're not unambitious, they just work shitty jobs they don't give a fuck about. They're super smart, smarter than everyone they work for, in fact. To them, having a job is just a means (money) to an end (getting drunk and/or high and having an awesome time with your best friend).
4. THEY KNOW DRUGS ARE AWESOME AND LADY STONERS RULE.
My homegirls are also consummate stoners. As a lady stoner myself, we are a special breed. I think it's weird for some people to think of women as stoners because they just think of guys sitting around on the couch, eating Cheetos, playing video games, and jerking off. Same deal, dudes…Only it's a lady, not a guy. Abbi calls an old friend named Cheese to acquire weed, who is now a mom with screaming children to deal with. She judgmentally disregards her for still smoking pot while swallowing a pill with a glass of white wine. We all do what we can to get by. We're all stoners, just in different ways.
5. THEY DRESS HOWEVER THE FUCK THEY WANT.
These ladies wear some amazing outfits. Ilana wears a half shirt to work that prompts her boss to have a chat with her. She pulls it up and it shows the bottom of her tits. She pulls it down and it shows the tops of her tits. There's no way to please her boss. She looks great and it may be inappropriate for an office environment but since she couldn't cares less about her job, she shrugs it off. Their outfits are pretty much always wrong for the occasion. They go to a nice restaurant for Abbi's birthday and Ilana wears a stomach-baring, tight outfit and got the hairiest of eyeballs from the host. Or when Abbi scores an illustrating gig, they roll into the bank to cash the check, Abbi in a puffy outfit ala Missy Elliott and Ilana looking like a video chick. Sure, it was a fantasy sequence set to a Drake song, but even in their fantasies they always look fucking amazing.
The thing about Abbi and Ilana's vices (and their welcoming of them) that is so inspirational is that they're having a great time. They smoke doobies because it's fucking fun! They drink because it's fucking fun! They have casual sex with random dudes because it's fucking fun! They wear some CRAZY outfits because it's fucking fun! You just want to hang with these broads because they seem like they're having a blast.
I dont know about you, but I'm ready to light this jazz cigarette, watch the shit out of season 2 with my lady friends and celebrate my own embraceable vices.
Broad City (Season 2) premires January 14th on Comedy Central
#broadcity #STACKEDDMAG