Being single fucking sucks. There are elements of awesome being a single lady, like doing whatever the fuck you want whenever the fuck you want. However, the looming possibility of dying alone and no one finding you till half your face is eaten off by a raccoon is hella real, though.
Plus, sex is rad and having someone to do nasty stuff with on the reg is pretty much magical. And the snuggles. Hugs are like fucking heroin. Or Pringles.
So here we are, in the age of the interwebs, trying to figure out how to make connections and maybe find someone who is funny as hell, hairy, tall, smart, and cool. Good sweet mother of all that is holy is it goddamn DIFFICULT. There are a lot of people out there who just aren't your fucking shit. They're not bad people (well, sometimes they are), they're just not your person. And herein lies the fun of Tinder. When you match with someone, it gives you several options, one of them is to "Keep Playing," thus acknowledging it is a GODDAMN GAME. Try to remember you're playing with actual human beings and be kind to them, but please enjoy privately making fun of them, because it's kinda the best thing ever.
There's someone out there for everyone (except, hopefully, all the misogynists) and it's up to you to decide who you wanna bang and who you don't. However, if you do decide to bang people you meet on Tinder, here's your menu options:
1. The Sports Fan. This is, in all honesty, 85% of the dudes on Tinder. Most of the dudes have pictures of themselves in sports gear and often they are at an actual game. However, some of these dudes are hardcore fans. Painted bodies and literally every picture has the Seahawks logo in it. This is anathema to me, but if the sports make your panties go ping by all means bag you one of these sports-loving babes. Peg him so he can watch his favorite team win while he comes! Go, team!
2. The World Traveler. Lots of these bros, too. They are frequently seen posing with exotic animals. I have seen many tigers, birds, dolphins, elephants, and snakes. Because snuggling with a goddamn parrot is hot? These dudes also sometimes have photos of themselves with children in African villages and such. That semester abroad changed his life, dude. It's like a global village and stuff. Oh, male Angelina Jolie, do me on this international flight!
3. Super Nerds. These fellows are legit my favorites. Because if nothing else, they are truly being themselves. Some definitely live in their mom's basement but fuck it. They love something so fiercely they are willing to look completely ridiculous. That is a truly magical quality to possess. Especially if he's your dude and he loves your lady parts as much as he loves Star Wars (not sure if that's possible, as I've never loved a dick this much but who knows?)! Give him blowies in his mom's basement underneath a World of Warcraft poster!
4. The Guy With A Dog. So many guys with dogs. Sometimes they just put pictures of their dog on their profile. Like, really man? Your dog is cute but how does that help me decide whether or not I would let you put your penis near parts of me? It would not. Dogs are awesome, and if this gentleman is awesome I highly recommend you bone down doggystyle. Just don't let the dog in the room. It will stare at you and you will feel weird.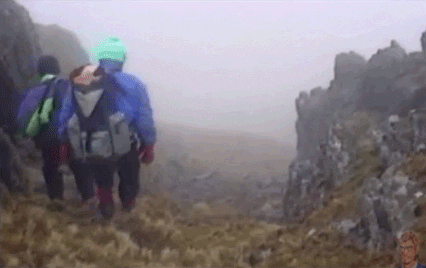 5. The Hiker. Oh, man. He loooooooves hiking. And wake boarding. And rock climbing. And a bunch of other shit you have never heard of before but involves an insane amount of muscles that have lain dormant for many moons for most people. If jumping off of shit, posing atop mountains and subsisting solely on trail mix is your jam then maybe you should 69 each other while belaying off of a mountainside.
6. The Musician. Oh, my god, you're in a BAND?!?! In SEATTLE?!?!? That's so cool! Most of these guys play bass or drums. It's rare you get a singer/guitarist. But hey, bassists know how to use their fingers and drummers have excellent rhythm…so you're fucking good. As long as they aren't assholes who talk to you for four seconds before sending you a video of their terrible band that you're supposed to be super impressed by I say stick those drumsticks in weird places while listening to side one of Led Zeppelin IV.
7. The Corporate Suit. He makes lots of money. He's very successful. He's good a biznezz. He likely does something you've never heard of (because he's totally not the assistant manager at Guitar Center). This could be cool if you like guys who can take you to nice places and buy you nice stuff. Some people like that kind of thing, I guess. Let him eat you out in his high-rise office then buy you dinner at Canlis after.
8. Olde Tyme Hipster Fox. We all know most of these guys are dicks in sensitive dude clothing but fuck man. That tintype of him with his beard and sweater and hat and shit. Looking like he's going to build you something out of wood he hewed with his own two hands. Goddamn. That's some powerful sex panther. Let him make sweet beautiful love to you in a cabin that he built in front of a roaring fire that he also built on a bearskin rug that he totally bought at a thrift store.
Have fun with the smorgasbord of fellas out there! See what you like. Go on dates with types you've never gone on dates with. Be adventurous! Also, please carry mace (and condoms). There are some real fucking creeps out there. Party on!