As we are still in the TV "deadzone" before February Sweeps, it's a grand time to get caught up on some choice feminist television you might have missed. Chelsea Robinson and Ma'Chell Duma Lavassar's list their small screen faves of 2015 year below.
Saying goodbye to Leslie Knope-Parks and Recreation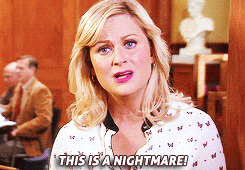 We've been through A LOT with Ms. Knope. We've built empires and seen them torn down, we've seen love (we all both love AND like Ben!), loss (Bye-bye, Lil' Sebastian), and leaving (Anne. The Beautiful Seahorse.). And this year we said goodbye for good to one of television's most badass feminist politicos. But we all know she's gonna do great things and we can just go right on ahead and keep writing our dope Leslie Knope fan fiction. CR
Gretchen's Depression- You're the Worst
Hands down the most underrated TV show you haven't seen. In it's second season this stellar comedy about two horrible people who fall in love had actress Aya Cash's Gretchen sink into a deep depression that boyfriend Jimmy, despite all efforts, couldn't fix. This was, in this writer's humble opinion, the most realistic portrayal of depression in recent television. Sometimes it just happens and it's fucking debilitating and the people who love you can't make everything okay again. It's really hard and scary for everyone involved. Mental health is a feminist issue and this show did a stellar job of showing a real woman dealing with real depression. CR
Olivia Pope Has An Abortion. Gives No Fucks. MDL
Abbi Pegs- Broad City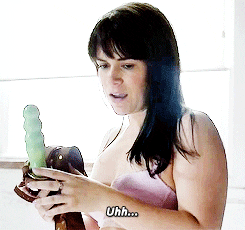 It is genuinely difficult to pick a Broad City moment that isn't amazing but this season's storyline in which Abbi has sex with a strap-on (for those who don't know what pegging is) with her dream guy, neighbor Jeremy, was revolutionary. Meanwhile, best friend Ilana is shopping for underground knock-off handbags with her look-alike mom (played Susie Essman, to which I say BRAVO to the casting director for sheer perfection). When Abbi tells Ilana she pegged, Ilana literally says it's the greatest day of her life. This episode is about friendship, family bonding, and realizing your dream dude is just an asshole who doesn't like doors. *Editor's Note: I must confess I screamed so hard with joy I tinkled a little when Susie Essman popped up as Ilana's mum. MDL
Mad Men Sends Its Heroines Off in Style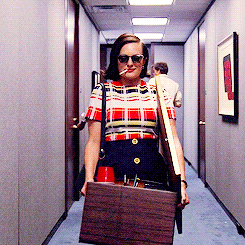 Throughout the course of its seven-season run, Matt Weiner has proven himself to be the rare male writer that "gets" women and the send off he gave Mad Men's ladies only furthers my case. From Betty's choice to die on her own terms to that already iconic scene of Peggy Olson owning McCann Erickson upon entry, Weiner concluded the series with female characters confident in their own choices a rarity on television. AND JOAN!!!!! She was the last person to figure Sterling Cooper (and Draper and Price and Campbell and Olson) had always needed her way more than she ever needed them. It's downright magical the last shot we see of Joan Holloway-Harris is her standing in her dining room- baby in one arm and telephone in the other- flipping metaphorical double middles to the entirety of the patriarchy. Joan's evolution from boy's club panderer to badass,second-wave feminist was my favorite moment on TV last year. MDL
Becky's Sex Scene- Empire
I've never "YAAAAAAAAAASSSS KWEEN!!!"ed so hard as when Gabourey Sidibe's hot (AND FAT!) Becky was shown getting it on with her hot (AND NOT FAT!) boyfriend on one of my forever favorites, Empire. Of course, the internet went bananas because fat women fucking not fat dudes is like completely bonkers (um, paging Kevin James' entire career of being the fat dude getting it on with not fat women that absolutely no one raises an eyebrow at). To which Sidibe pretty much said she was too busy being a boss bitch to give nary a fuck about (YAAAASSSSS KWEEN!). It's about time we see some women of size fucking their hot boyfriends on TV. I've been waiting. CR
Two Walks Home from the Bar- Master of None
This year Aziz Ansari got real open about his personal feminism and it shows in his new Netflix series Master of None. He and his friend Denise citizen's arrest a subway masturbator and he tries to understand why his girlfriend thinks his boss is a sexist jerk. However, the most feminist moment in this series is when Dev and his friend Arnold hang out at a bar and it shows their night side by side with the night of a woman at the same bar. The guys sit around and talk about how no girls are talking to them while she gets a drink bought for her that she doesn't want then gets accused of being unappreciative for refusing to drink it. They walk home through a dark park, while she walks in the middle of the street with her keys between her fingers. They are perfectly safe, she gets followed home by the bar creep and has to call the cops. That shit is real.
Citizen's Arrest- Master of None
I am not at all ashamed to say I finally "unfriended" someone who had long annoyed me over a post dissing Master of None. Seriously, how could you have a problem with the show? Not only is it a fresh, interesting take on the standard  "buddy" dramedy, it re-enforces the message real allies don't just talk the talk they walk the walk. And OMG! Denise. Denise. Denise. Wouldn't every entourage would be better off with a Denise than a Turtle?  MDL
Viola Davis' Best Actress in a Drama Series Emmy Speech- 2015 Emmy Awards
There's nothing not wonderful about this speech. When Viola Davis won Best Actress in a Drama Series for her portrayal of lawyer Annalise Keating she spoke about the paucity of roles for black women and gave shout-outs to her fellow rad black actresses Taraji P. Henson (who was adorably stoked for Davis, even though that meant she lost), Kerry Washington, Halle Berry, and Meagan Good. Beautiful and true and bad-ass, just like the lovely Ms. Davis herself. CR
FEMALE SUPERHEROES- Jessica Jones and Supergirl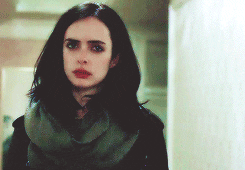 Hey guys, did you know that women can be superheroes, too?!?!?!? Yeah, they can also helm their own series. And thank goddess for that! We got an unprecedented TWO female-led superhero series this year, Jessica Jones (played by Krysten Ritter), about a P.I. with superpowers and Supergirl (played by Melissa Benoist), about Superman's cousin and all-around rad heroine Kara Danvers aka Supergirl. Very different superheroes but equally important. Jessica Jones is dark, fucked up, and sexy while Supergirl is quirky and charming (whilst also being bad-ass). Both are super important. Especially to lady geeks such as myself. CR
I second Jessica Jones for finally showing an action heroine in reasonable footwear. MDL
The Beauty of Kenny Loggins and Best Friends- Playing House
Yet another highly underrated gem of a series, Playing House follows best friends Emma and Maggie as Emma bails on her high-paying job in China to help her best friend raise her daughter after her husband cheats on her while she's pregnant. In the series' second season, the ladies are raising baby Charlotte, trying to date, and singing each other Kenny Loggins. In the season finale, Maggie decides to surprise Emma with a special surprise at a rare Kenny Loggins concert. However, she entrusts her fuck-up brother to procure tickets and shenanigans ensue. This episode contains Kenny Loggins-themed snacks (Ants on a Loggins, anyone?!?!?), a lady guitar tech with witchy vibes, and the power and beauty of female friendship and making one's own family. CR
Clone Club Everything- Orphan Black
If you're not watching Orphan Black, you are a stone-cold chump. It's amazing. And Tatiana Maslany is possibly the best actress of all-time because she plays all of the clones. And there are lots of clones. And they all have A LOT going on, like Sarah, who has to protect her daughter as the only clone offspring AND manage to protect her "sisters" from dubious forces. Each clone is a complete boss bitch (or bastard, since there is a transgender clone!) and this season their badassery comes in handy as they battle their male counterparts, cutthroat competition in a school trustee election, and possibly untrustworthy new lovers. I don't know that it's possible to pick a particular moment of this consistently stellar series so I won't even try. Just quit being a dumb-dumb and watch it already! CR