Originally published 1/19/15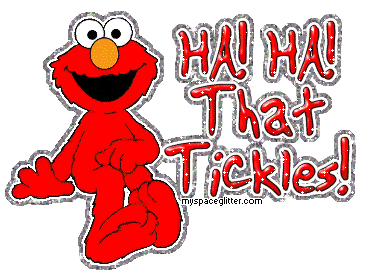 Our monthly look at parenting sons.
"Mom! Mom! Tickle me! Tickllllllllllllllleeee meeeeeeee!" is a request heard round our house morning, noon and night for the last two years since we discovered my now seven-year-old son had inherited his dad's uber ticklishness. Unlike his father who considers the condition as a curse, tickle time is often his requested reward for good behavior, and many mornings I awake to him nose to nose with me requesting tickles to kick off the day. His appetite for them is seemingly unquenchable. From the back of the neck to the backs of his knees – the kid can't get enough. And he doesn't even care it's one-sided; as I've frequently informed him, tickles are not Mom's jam. Tickle warfare isn't really much of an option anyway because aside from a sole spot on the bottom of my foot that leaves me vulnerable to embarrassing fits of giggles mid-pedicure, he can't really retaliate, and further more I have told him plainly that I don't want my body touched that way. Tickles in our house reinforce the idea there are rules in place for other people's bodies and they get to set them, not you.
It was during a marathon tickle session that had reached the point where my hands were beginning to cramp he let out a long "nooooooo," so I stopped. He then became puzzled: "Why did you stop?" he asked. "Because you said to," I answered. "But I didn't mean it," he said puzzled. "I wanted you to keep going, I just knew it was going to be too much soon." It was easy to see his point. "no" can be a confusing word. It's a reaction word without specifics and it's also an incredibly powerful one.
As much as I hate to think about it now, in a few more years he'll be having his first early experimental encounters, the kind where our bodies are saying yes and our brains are saying "No, this is going too far." Tickling is one of the first acts you perpetrate on someone else's body or where you turn control of your body over to someone else. Much like those early make out sessions, "no" comes out of our mouths first, even when our bodies are reacting as a "yes".
"Okay buddy," I explained to him, "if it's confusing to you, use 'STOP' when you want mom to stop." This he got instantly, as he'd been raised to recognize when someone says stop, you need to acknowledge that and end your actions. Even though I'm strict, I wasn't a "NO" mom at first. As a toddler, we used "stop" as our go-to, because stop is an action word. It's an easier directive for a brain that is still figuring out impulse control. If I'd continually used "no" before he was 5 he would have heard it so often it would have lost its power with repetition and as such, it's a word that still holds a lot of power. A power I now equate with throwing a hell or a damn into the conversation – if mom is using that word, it means I mean business. As he aged and his brain was quicker to process the word, NO began to replaced STOP, and it is now in play so frequently I've had passersby in the grocery store comment on it. As one QFC employee informed me – after a loud, five-minute whinefest that devolved into a near tantrum where I held my ground over purchasing a six dollar super market toy – "Honestly," she said, "most moms are quick to give in and get on with it. I rarely ever hear mothers telling their sons 'no'…"
And as we all know, "no" is something boys need to get used to hearing. In a culture where male violence towards women sexual and otherwise is hard to ignore, the power of the words "stop" and "no" need to be reiterated – often. We have to start early on conveying the message that it's important to respect other people's words and feelings even when our feelings or bodies are saying something else. Tickling is the perfect way to teach this through a physical example. Respecting someone's no, before it gets to stop, is one of the most important things I can teach him as a mom and a feminist.
And it's working. One morning as the tickles raged on, he accidentally kicked me in the crotch. Mortified and worried he said "Sorry, if I hurt your va-gine-i-a" pronouncing it like it's a mystical land. "That's okay buddy," I assured him, "some moms go their whole life and never get that apology."
#SONOFABITCH #STACKEDD