Originally Published  April 22, 2016
In 2007, I was a working as a graphic designer at an independent book producer in Bellevue, Washington. Though we were a small company in scale, we took on some pretty big estates –Courtney Love, Bob Dylan, Audrey Hepburn — and created specialty high-end books for them. Through our work, we developed many interesting relationships, one of which was Universal Music, who Prince was recording with at the time.
The story goes that Prince came across a couple of books we created for the estate of Tupac Shakur, loved them, and wanted to meet to talk about his own book project: something he had been wanting to put together for some time. He had his assistant reach out to us, and before we knew it, a dumbfounded team of four was invited to the Rio in Las Vegas, where Prince had a temporary residency at his "3121 Club", custom built to his divine specifications. Unreal.
I was assigned to the somewhat intimidating task of creating several mind-blowing design concepts that we could take with us to our meeting with the hope of landing a collaborative endeavor with Prince. How one might rightfully ask, does a reasonably normal level creative person blow the mind of Prince? The only information I had was that he likes things that are "funky and sensuous." Um, yeah. No creative pressure whatsoever.
When I first got confirmation that this mythical meeting would become a reality, I called the first person that would share my absolute freak-out: my older sister. Shamefully, I wasn't well-versed in Prince's crazy extensive back catalog, other than the most obvious/nostalgic: the Purple Rain soundtrack and the laundry list of hits, so my first thought was that I wasn't worthy of what I had been asked to do. My sister told me not to sweat it – she'd prep me like an athlete – and she did the one thing I needed most to prepare myself emotionally and creatively: she burned me an epic Prince mix, spanning about 3 CDs and the entirely of his musical career up to that point.
I spent the next few weeks binge watching anything Prince-related, listening to nothing but my sister's CDs, and pretty much agonizing over my "mind-blowing" designs and requiring constant self-esteem boosts from friends and family. By the time the trip rolled around, though, I was ready. I was convinced that my designs, my creations would be unlike anything Prince had ever seen and this opportunity would launch my career as the icon's personal graphic designer. Right.
Fast forward to April 2, 2007, Las Vegas. We were scooped up by Prince's assistant in the hotel bar of the Rio, where we had been told to wait, given a brief but frightening list of "do's and don'ts" for our face-to-face meeting (no cell phones; no cursing; no business cards; if Prince offers you any Jehovah's witness literature, take it; no discussion of money; no alcohol, no skulls (!?)…) and led through a labyrinth of back hallways and secret corridors in the bowels of the hotel. Past a few more secured areas and we found ourselves standing at the door of Prince's Lair: his personal and ornate live-in apartment, studio, and working space.
The first thing I noticed upon entering was that everything was bright white, pristine, and smelled amazing. The "symbol" had been embedded, in shiny gold, into the long, white marble hallway foyer. We were led to a living room at the end of the hall and asked to wait there while Prince's assistant went to let him know we were there.
The four of us waited patiently, nervously in this lavish room, not speaking. I think we were individually trying to soak up as much of the visual information around us as we possibly could without coming completely unglued. It was the strangest feeling to be surrounded by so much evidence of Prince without him actually being present yet: a huge, white grand piano…a heart-shaped mirror above the fireplace…the plushest (ahem, most sensuous) furniture I had ever seen. The transmitter of the amazing scent that permeated the whole space: Caramel and Sweet Pea candles. (Yeah, I looked. Who wouldn't?)
In my mental replay, he truly seemed to appear out of a cloud of smoke…perhaps rising from a secret door in the marble floor. But however he materialized, he was suddenly in front of us, with two tall, voluptuous women to his left and right. His outfit: head to toe tangerine. Not orange. Tangerine. Right down to his stacked heel boots. He was adorned with a long gold chain, at the end of which hung a large "symbol" charm, dripping with diamonds. A hint of chest hair peeked out of his button down shirt. At the ends of his sleeves: diamond cufflinks. I kid you not.
We were led to a more formal meeting room back down the hall that we came from. The voluptuous women who were just there seemed to evaporate into thin air, and Prince kindly waited at the door, shaking each of our hands as we walked in. We all sat, and I was given the seat directly to his right – the closest seat to him. I remember being taken by how smooth and ageless his face was. How tireless he seemed to be, considering he had played a show the night before, flown in from Minnesota that afternoon and was gearing up to perform again that night. A thought flashed in my mind: maybe this man has been scientifically engineered to stay beautiful. Could he be part robot? He just looked so good.
After what seemed like hours of silence, Prince finally broke it with, "So who's gonna kick this thing off?" (Holy shit, this is happening). My boss fumbled his way through a brief introduction of who we were and why we would love to collaborate with him and then it was my turn.
I had been told that Prince didn't have any creative management, so he was basically a bit of a runaway train, calling the shots and having few (if any) creative guide rails. I learned very fast that the he had a very specific vision for his book. And… my design ideas were definitely not it. In quick succession, each of my EIGHT layout ideas, all of which I had labored over and proudly and precisely glued onto my sad black presentation boards, were skimmed through so rapidly I honestly lost track of what was happening. I would begin to elaborate on why I chose this font or this color and was quickly cut off by Prince, saying, "No." or "I've seen this done before." Or worse: dead silence and a bored gaze. Just to clarify: he was never an asshole during our meeting. Never. He was firm, he was straightforward, and he knew what he wanted. Rejection is part of the job, but believe me, if you are going to get dismissed by anyone creatively, the wound takes longer to heal when coming from the lips of Prince.
After going through this for what felt like a black hole of time, Prince proceeded to give us his point of view on what the book should be. He wanted it to feel like a "secret," to be reminiscent of "The Greats", like Hemingway. He pointed to a glass bird sculpture on a credenza behind the table and said, "See that bird right there? That should be the book." Followed by a hairpin turn into Sly and the Family Stone: how people go into Sly's house but never come back out. All the while I'm furiously taking notes as if any of this will make sense to me later. I must have left my body for a moment, caught up in the surreal experience, but when I returned, Prince was in the middle of describing a tongue-shaped couch in Sly's house….and something about cocaine.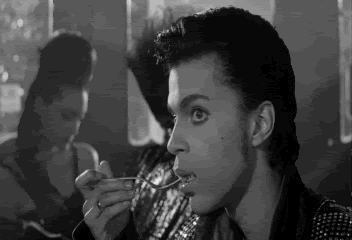 At some point the meeting ended and we were whisked off to the VIP area of the 3121 Club to see Prince's show, as well as the aftershow, which was to be an acoustic set in a smaller lounge area. Both of which were beyond amazing and memorable, but I remember thinking that the live shows are how most people see him – in that specific context – but I had been given this strange gift of sitting at a table and interacting with him, one on one. Whaaaat.
After we unceremoniously returned to Bellevue, I couldn't listen to Prince's music for the next three months without feeling a wave of embarrassment come over me. The aftershocks of that meeting were hard on my young design ego, to be sure. But…I sat at the Right Hand of Prince. And good, bad or creatively humiliating, I never felt luckier in my life. As he put it in himself in "Sometimes It Snows In April"…'those kind of cars don't pass you every day'.