Originally Ran Feb 2, 2015
Twin Peaks is like a booby trap for fanfic writers who focus on the show's women and the affairs of their hearts – making it part soap-opera parody. Much of the dialogue in the show is so on-the-nose that when transcribed, it already reads like fanfic. In female-centric, love-oriented Twin Peaks stories, the dialogue feels incredibly chintzy even when much of it is lifted verbatim from the show itself. But in the show, there's ambience, pacing, music—all of which adds layers to dialogue that might fall flat otherwise. Meanwhile, fanfic writers can wind up with an over-earnest rip-off of a parody. With no real curated gateway out there for Twin Peaks fan fiction, you can spend a lot of time wading through stories that can't begin to approach the smart, wonderful weirdness that creators David Lynch and Mark Frost conjured.
The second season of Twin Peaks ended with the reveal that the good-hearted, steadfast, charismatic FBI agent (Dale Cooper) had been possessed by the same evil spirit (BOB) that was at the heart of the show's central murder mystery. Then the show was canceled, leaving this eminently lovable character's soul in the lurch for 25 years. The situation begs for fanfic to fill the gap. Even so, a lot of the fanfic is reminiscent of watching little kids move dolls around a doll house – it's clunky and immature, and often seems to exist just to get two characters together romantically. The title "Welcome to Amateur Hour"  is an Albert Rosenfield quote and not a dig at fan fiction, but you can find plenty to mock when you wade into the Internet slush pile.
Most of the Twin Peaks' fanfic authors with the best writing chops have featured Albert Rosenfield prominently. Agent Cooper and Albert Rosenfield are both outsiders in Twin Peaks, have worked together in the FBI for years and have a certain chemistry. Cooper is soft-spoken and debonair without being effete, and is played by the bright-eyed, pale-skinned Kyle McLachlan. Albert is a snarky and bullheaded guy who examines corpses for a living. He is played by the scrappy but hyper-masculine Miguel Ferrer. On the Twin Peaks' Wikipedia page, 22 characters are listed as the cast of the show and Albert Rosenfield doesn't make the cut. He's in fewer than one-third of the episodes, but when he shows up, he has an impact:
Sheriff Truman: Anything we should be working on?
Albert Rosenfield: Yeah. You might practice walking without dragging your knuckles on the floor.
Sheriff Truman: Albert! Let's talk about knuckles. The last time I knocked you down, I felt bad about it, the next time's gonna be a real pleasure.
Albert Rosenfield: You listen to me. While I will admit to a certain cynicism, the fact is that I am a naysayer and hatchet-man in the fight against violence. I pride myself in taking a punch and I'll gladly take another because I choose to live my life in the company of Gandhi and King. My concerns are global. I reject absolutely: revenge, aggression and retaliation. The foundation of such a method… is love. I love you Sheriff Truman.
Dale Cooper: Albert's path is a strange and difficult one.
Cooper and Albert's relationship is like protective magic against the treachery of trying to recreate the unique David Lynch vibe. Both characters seem to be straight (as far as we can tell) in the show itself, but the tension and regard between them is developed into something more in the fan fiction. Many talented women writers (and they all seem to be women) have settled on Albert Rosenfield as Agent Cooper's ideal other, not the teenaged Audrey Horne or the guileless Annie Blackburn.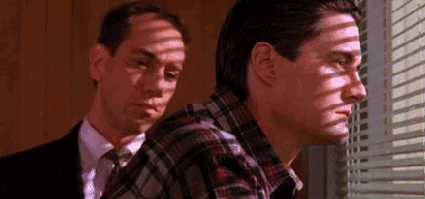 "In the Wake" by Amatara is a series of set pieces that jumps from year to year, highlighting several key deaths in Albert's life. The story begins in Albert's childhood and eventually connects with the cliffhanger ending of the TV series and explores how Albert helped the afflicted Cooper. But it begins decades before the show takes place, with the family cat dying.
"A cat," he corrected her solemnly. "Not 'just' a cat." That much he knew: in real life, nothing was ever 'just' anything. [….] A loss of life was a loss of life, whether it was a cat or something – someone – else. Weren't his parents the ones who'd taught him all life was precious, never mind whose life it was? About that, at least, they agreed, so he wasn't buying this. At all. Besides, he was pretty sure his mom had cried about Joshua. You could still see it in her eyes, if you knew what to look for, and Albert always knew. 
The set-piece begins as a simple story of a boy whose cat has died.  But then Amatara shows us (without telling us!) how different the boy feels at school and in the neighborhood. She alludes to his Jewishness, his extreme intelligence, his sensitivity. Finally, we learn that he didn't even like the cat, and that it died because a neighbor poisoned it. There's the suggestion of a hate crime lurking in Albert's observations of his mother reacting to the death of the cat.
Nemo the Everbeing writes about Albert and Cooper meeting as precocious young FBI colleagues. In the beginning of her three-part novella, Some Say the World Will End in Fire, Nemo the Everbeing imagines Cooper just showing up at one of Albert's autopsies.
Albert bristled at the ludicrous presumption. "I am not a psychiatrist, I am not going to be your friend, and I am not interested in buying Boy Scout candy. Go find someone else to bother."
The hand and the smile didn't waver.
When he realized that, despite his insistence, Cooper wasn't going anywhere, Albert muttered, "Oh, for God's sake," and shook hands with the idiot. He hoped that the rubber of his gloves and the slight moisture left from sample collection was properly unpleasant. 
Cooper's smile could have powered all of Philly for a week. 
After this meeting at the morgue, Cooper talks Albert into going with him to a crime scene at an abandoned house. The two men have a hair-raising metaphysical adventure that goes on for many pages. The action is pretty good and Nemo the Everbeing lays some groundwork for the mysteries and plot lines of Twin Peaks. She seems confident in her own ability to develop the mythology, which often seemed coughed up by the show's creators without regard for plotting or consistency. But the best parts of her story are the details of Cooper and Albert getting to know each other. At the end of the night's misadventures in the abandoned house, they have a moment:
Cooper's hand gripped his shoulder.  Albert rolled his eyes. "I'm glad you're with me, Albert. I'm going to need the very best."
And that, Albert decided, was how inevitability worked: a sunny smile and the certainty that Albert had a friend for life. Whether he wanted one or not. Cooper didn't remove his hand from Albert's shoulder, and, God help him, Albert didn't shrug it off. That was inevitability. It felt vaguely like a broken cheekbone.
Some of the Albert fanfic takes place during the action of the television show and provides extra scenes and new angles within the original plot. Amonitrate wrote an extra scene for the ninth episode of the second season. Her piece, "The Void and Cloudless Sky," takes place just after Leland Palmer is captured by law enforcement and then BOB the inhabiting spirit forces Leland to kill himself in his cell.
It went on long enough for Albert's feet to go numb. He rose from the floor and circled the tableau until he stood over Cooper where he held the corpse in his lap, oblivious to the lake he was sitting in, to Albert and Truman and the whole damn world of the sane still going on around him. "If you're done whispering sweet nothings into the dead guy's ear," he started, but as soon as the words left his mouth he knew it was exactly the wrong thing to say.
Cooper's recitation didn't halt but his shoulders stiffened. He finished whatever verse he'd been in the middle of when Albert had broken the peace and then raised his head to look Albert in the eye. "Albert, I need a moment." The brittle edge of disappointment there brought Albert's craving for a smoke raging back.
Though the first sentence of that excerpt goes on a bit too long, that last sentence about disappointment and craving a smoke is beautiful. It's this awareness of small cues and the identification of shifting emotions that make Amonitrate and the other authors so good at adding to the original Twin Peaks storyline.
Amatara (of the dead cat story I excerpted earlier) wrote a story that picks up where the TV show leaves off, with the evil spirit BOB inhabiting Cooper. In "Crazy Little Thing Called Love," she writes from BOB's perspective inside Cooper, looking out at Albert. She makes BOB the smirking audience to Cooper's bisexuality and his feelings for Albert. Cooper/BOB lie in wait for Albert as BOB inventories Cooper's mind.
BOB sifts through Cooper's memory, finds no recollection of ever seeing Albert with the shadow of beard or even slightly rumpled clothes. Albert's looks are his armor, the sleek suits and crisp ties and impeccable grooming all meticulously assembled to distract from that one oh-so-sticky truth. There's a reason Albert's made a career out of dealing with patients who never talk back: that way, he's just a gay man cooped up in a lab, as opposed to one in a public profession. Oh, he may claim to be out of the closet, all right, but he's really just dragging his closet along with him. In the end, aren't they all?
Later in the story, BOB lets Cooper's consciousness move to the fore, and Cooper interacts with Albert but with a feeling of vague panic or discomfort. It's like he can feel BOB's presence in his mind, but doesn't understand what it means. Amatara uses the scene to give Cooper some realizations:
"Just talk. Please." Cooper addresses him shakily, suddenly desperate for any emotion belonging to someone other than himself. "Tell me what you're thinking right now."
Albert blinks as if that's the worst piece of gibberish he's heard in his life. "Well, it's not what I'm thinking that damn well matters here, is it?"
"It is." This time he manages to keep his voice steady. "It matters to me." He shudders, rakes sweaty hands through his hair. The planes of Albert's face are hard and angled and somehow, in a way he's never let himself see before, beautiful. Such fierce pride in that face, the scattered lines of boundaries drawn and crossed and drawn again. His own life, too, has been an exercise in boundaries. Has he crossed too many, or not nearly enough?
CJMarlowe, In her story, "Once and Future King," doesn't always come across quite as sophisticated or nuanced as the other three writers mentioned here. But she nails the voices of the characters, and gives us a sweet ending to Cooper's story. Many gruesome and sad things were imagined by fanfic writers to explain what happened to Cooper once BOB entered him. But without being trite or employing too much fiat power, CJMarlowe writes a Cooper in recovery after a long journey to Tibet where he had BOB spiritually extracted. Then she brings Albert and Cooper back to Twin Peaks on FBI business.
Cooper was hanging up his second suit in the closet when Albert arrived, pulling his pristine suitcase behind him. "I hope you got a room with a view this time, Cooper, because if I have to spend one more night overlooking an industrial waste site I'm packing up my Egyptian cotton sheets and leaving you."
"It's Twin Peaks, Albert," he said cheerfully. "Every room has a view." [….]
"You're gonna be a basket case until you get this cosmic mojo thing all worked out, Coop."
"It is all worked out, Albert. You were there. You remember."
"There's worked out, and then there's worked out, and while you may have gotten the metaphysical part taken care of, your head's still a mess. And as a doctor, that's a clinical observation for you."
CJMarlowe's story is also sweet for reuniting Albert and Cooper with Sheriff Harry Truman. When Albert leaves the room, Harry says, "So, you and Albert, huh?" and Cooper responds, "The kind of love that Albert wields is not the kind you can find just anywhere, Harry. I wouldn't be here without him."
Really good fiction has to carry the weight of obstacles, crisis, and conflicted feelings. Maybe in the end, fanfic is the refuge we need, where we can see Albert and Cooper finally out on the other side of most of their obstacles, just being a happy couple.